A Homage to Our Suitcases
- 4 minutes read
- 767 words
When airport baggage conveyors brought mine and Andrea's matching black suitcases into a terminal, it was hard to distinguish them from other generic bags rolling alongside them. They were branded as Jeep, but they weren't extraordinary, and toward the end of their usefulness, I picked them out by their rips, broken wheels, and other scars.
They were part of our marriage from the beginning. My parents bought them from Sam's Club as their wedding gift to us, and our first trip with them was our downtown Chicago honeymoon. The original plan was a honeymoon in the Yucatan Peninsula, but spring 2009 was the height of the "Swine Flu" epidemic, and with all the flight and hotel accommodation cancellations, we settled for the far less tropical Windy City in May.
We stayed at two hotels in Chicago—one right off Michigan Avenue near the river, and the next was about a mile away in the Near North Side. We left our car elsewhere, so we dragged our black suitcases from one to the other. But that wouldn't be the first time we dragged them around.
Pennsylvania was our first home as a married couple, and the luggage traveled along with us to York County. During those first few months, we stayed close to home, but in the winter of 2010 we took advantage of our valid passports and took our postponed voyage to the Yucatan.
Neither of us were old enough to rent a car, so ground transport was by bus, collectivo, taxi, or most often on foot. And the bags tagged along too—on shell-paved roads, across sandy paths, and over dusty gravel. By the time that week in Tulum was over, the little wheels didn't roll as smoothly as before, and one had even lost a wheel.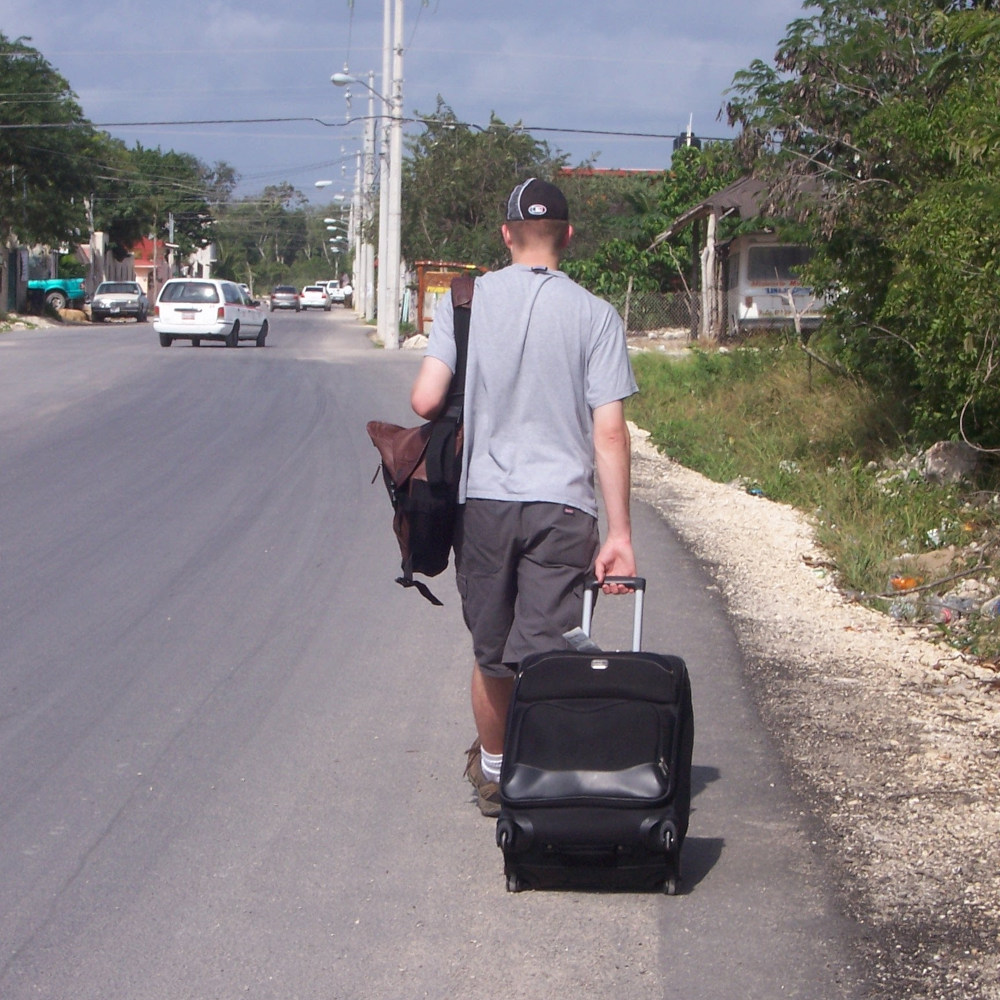 Back and forth—to Michigan and Indiana, to Georgia and Florida, to New York and New Hampshire—mostly by road but sometimes by air, those bags carried our clothes, shoes, Bibles, toothbrushes, passports, and Christmas gifts. The seams tore, the canvas stretched, and the wheels worsened, but we were too cheap to buy new ones.
Babies came about two years apart from each other, and soon we stuffed diapers, toys, and baby clothes into the bags. When the babies outgrew sharing a suitcase with us, we bought them their own. But still Andrea and I used those same Jeep bags for ourselves.
To celebrate an anniversary in 2016, we planned a big, adventurous trip. The evening before we left, though, I realized our luggage might not survive an overseas trip, mostly due to an obvious tear that might end with our clothes being strewn on an airport terminal floor. Andrea was on her way back from dropping our children off with family. I can't sew, but I was the only one who would have time to mend the tear. So I did what I could with a needle and thread, and patched it enough to accompany us to Israel. Our luggage stayed with us on a brief layover in Baku, Azerbaijan on the Caspian Sea (how many American suitcases can say they've been there?), then on to Eretz Israel.
A sherut drove us from Ben Gurion Airport to Jerusalem, where we spent three nights in a tiny room in the German Colony. We rented a little car the rest of the trip around Israel, and our suitcases sat in the seats behind us as we trekked to Haifa, Acre, Kibbutz Ein Dor, the Golan Heights, Arad, and Tel Aviv. It was the trip of a lifetime, and our inconspicuous luggage held our things for us.
They went with us one more time to Mexico, but their last foreign adventure was to our neighbor, Canada. Dragged for miles, carried when the wheels would no longer roll, mended, stuffed with wet clothes, torn, thrown, sat on, rained on, snowed on, smashed, baked in the sun, frozen in a luggage carrier—the Jeep suitcases still did their simple and humble duty.
A short trip to visit family in the midwest was their last hurrah. Andrea found a few nice suitcases someone was getting rid of, and we now had no more use for those matching black bags. It might seem like a silly thing, but before my sons took them out to the curb for the garbage truck one evening, I had them snap a quick shot of me, Andrea, and the suitcases; they had accompanied us for fourteen years on many adventures, so why not give them one last adieu?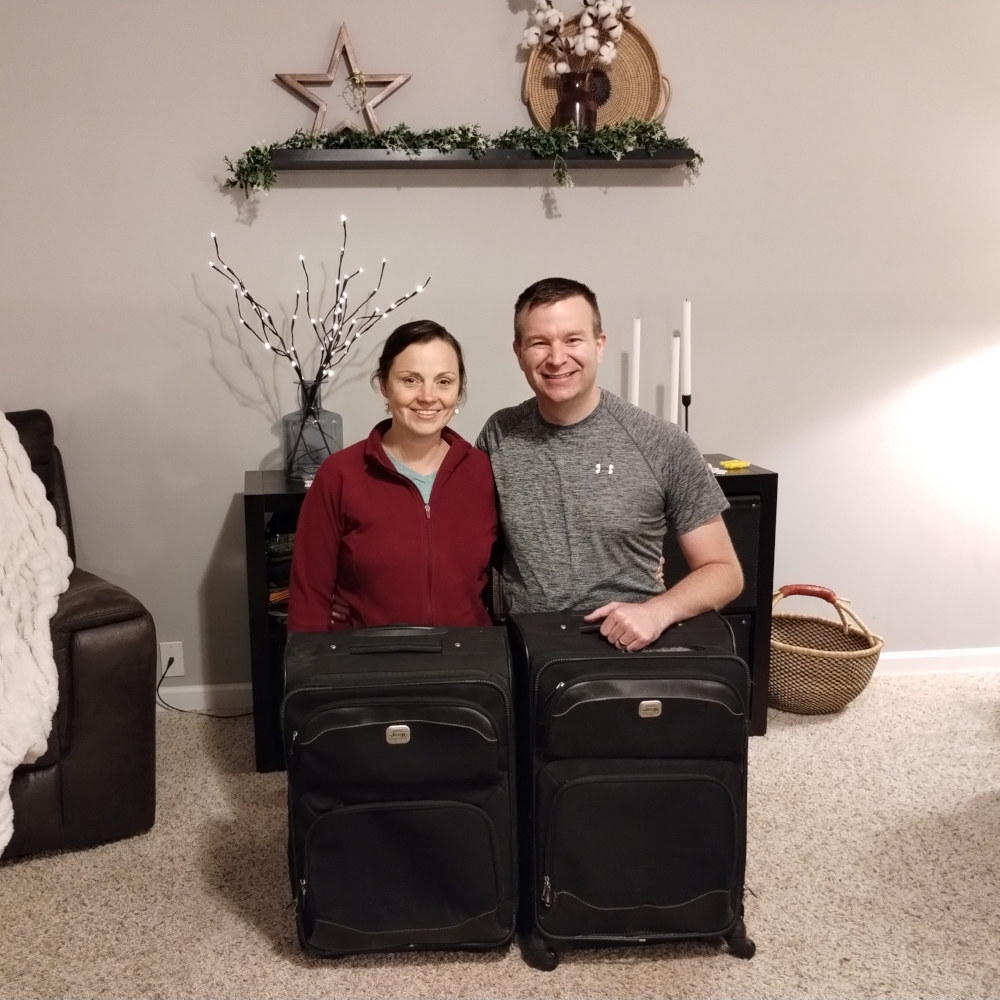 And may this "new" set bring us as much joy and adventure as the last ones!